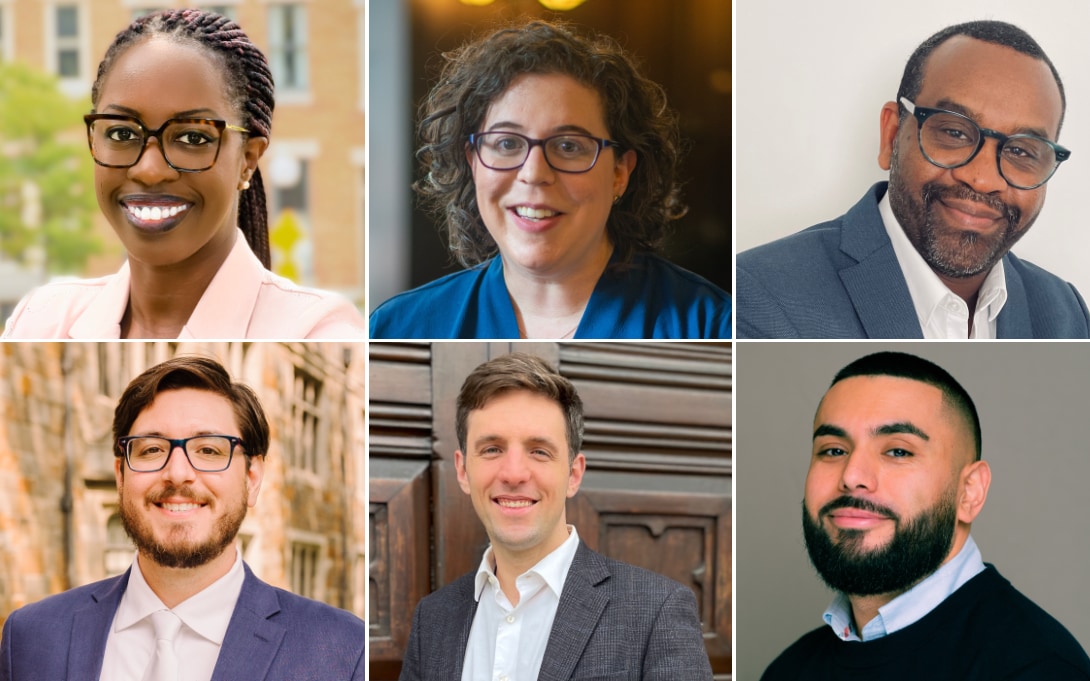 A former foreign minister to Mali, a leading educational economist, a tech entrepreneur who explores indigenous technoscience are among the outstanding new faculty that add depth to the Ford School and connect student education, rigorous academic research, and real-world policy impact. Together, they bring expertise in education and economic policy, foreign relations, political movements, racial justice, science and technology, and more.
Ambassador Kamissa Camara comes to Ann Arbor as a professor of practice, bringing 15 years of experience and expertise on foreign policy, socio-political and security issues in Sub-Saharan Africa. She is the former Foreign Minister of Mali and the youngest person to have ever held the position in Mali's history. Prior to working with the Malian Government, Camara held leadership positions in Washington, DC with the International Foundation for Electoral Systems, The National Endowment for Democracy and PartnersGlobal. She frequently contributes to the media and was listed as one of Forbes Africa's "Women to Watch in 2020". Camara will teach a graduate course, "Great Power Rivalry and the International Order" this fall.
Leading education policy economist Sarah Cohodes joins the Ford School as an associate professor, with tenure. Cohodes uses quantitative causal inference methods to evaluate education policies and programs and is known for her influential research on charter schools. Her research focuses on school choice, programs for high-achieving students, and settings that support access to high-quality education. She is a research associate with the National Bureau of Economic Research and a co-editor of the Journal of Public Economics. Cohodes earned her PhD in public policy from Harvard University.
After serving as a Michigan Society of Fellows postdoctoral scholar, Ben Green is now an assistant professor with the U-M School of Information and a assistant professor of public policy at the Ford School, by courtesy. He is an affiliate of the Ford School's Science, Technology, and Public Policy research center. 
Science and technology expert Yousif Hassan will join the Ford School as an assistant professor in the winter 2024 term. He was most recently a research fellow in the Science, Technology, and Society Program at the Kennedy School of Government at Harvard University. Hassan started his career as a software engineer, including as both a manager in a large company and as a co-founder of a tech company focused on artificial intelligence, which led him to the academic field of science and technology studies. His research explores how race (as a social and political construction) is embedded in social structures and institutions related to what he calls "post-colonial and indigenous technoscience," especially in the Global South. 
Economist Justin Holz joins the Ford School as an assistant professor. He studies social issues in public and labor economics, with particular emphasis on misconduct by organizations. His current research explores how economic policies affect racial disparities, how to increase tax compliance in large businesses, and police misconduct. He is an affiliated researcher at the Joint Initiative for Latin American Experimental Economics. Holz earned his PhD from the Harris School of Public Policy at the University of Chicago. Before attending the Harris School, he was the associate director of the Chicago Experiments Initiative at the University of Chicago.
Political scientist Devin Judge-Lord joins the Ford School as an assistant professor. He studies the intersection of political movements and technocratic policymaking, including interactions among interest groups, legislators, and bureaucracies.  His current book project focuses on how movements and public pressure campaigns affect agency rulemaking, especially climate and environmental justice campaigns. Most recently, he was a postdoctoral fellow at the Harvard University Center for the Environment and Center for American Political Studies and an oversight fellow at the Levin Center for Oversight and Democracy at Wayne State University Law School. Judge-Lord will teach a graduate course, "The Politics of Public Policy," this fall.
Sociologist Mo Torres (MPP '15) will serve as a Michigan Society of Fellows (MSF) postdoctoral scholar and assistant professor at the Ford School for a three-year term. His research and teaching interests are in political economy, urban politics, and race-class inequality. His current book project explores the politics of fiscal crisis and urban austerity in Michigan from the 1970s to the present. Other projects include independent and collaborative work on neighborhood inequality, banking and payday lending, policing, and the sociology of race and racism. Torres received his PhD in sociology from Harvard University. He will work closely with the Ford School's Center for Racial Justice and teach a winter course on race and urban policy.
Law professor Jeffrey Zhang now holds a courtesy appointment at the Ford School. He teaches and writes on financial regulation and digital assets and is an affiliate of the Ford School's Center on Finance, Law, & Policy.
Welcome, post-doctoral fellows
Kristina Fullerton Rico studies migration, transnationalism, aging, gender, family, and race and ethnicity. Her research focuses on the experiences of undocumented immigrants and their families who are physically divided but digitally close thanks to accessible communication technologies. Fullerton Rico will work closely with the Ford School's Center for Racial Justice and teach an undergraduate course, "U.S./Latinx Policy Perspectives," this fall.
Cat Owsik is a postdoctoral research fellow with the Erb Institute and the Ford School's Leadership Initiative. She is an organizational psychologist who studies environmental justice and diversity, equity, and inclusion (DEI) at work, primarily drawing on social psychology theories. Her research focuses on the interaction of business, sustainability, and justice, reflecting her passion for assisting leaders and organizations in navigating the nexus of environmental sustainability and justice. Owsik will teach the undergraduate "Intro to Leadership" course this fall.
International Policy Center post-doctoral fellow David Peterson researches international relations theory, the domestic politics of foreign policy, the politics of militarization, and international order-building. He received his PhD in international relations from Ohio State University and his BA in political science and economics from the University of Chicago.  
More news from the Ford School